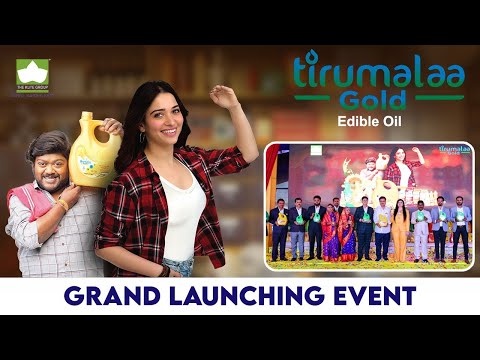 Tirumalaa Gold Edible Oil Grand Launching Event | The Kute Group's New Venture
The grand launching event of Tirumalaa Gold, a premium edible oil brand launched by The Kute Group, specially for the south region, was held in Beed.
Respected Mr. Suresh D. Kute (Founder & CMD-The Kute Group), Respected Mrs. Archana Suresh Kute (MD-The Kute Group), Respected Master Aryen Suresh Kute (Founder and CMD-OAO India), Respected Mr. Ashish Patodekar (Group Director), Respected Mr. Yashwant Kulkarni (Group Director) along with the Guests and The Kute Group Family members attended the launching event. The products of Tirumalaa Gold were also revealed in front of everyone.
We are happy to share that the brand ambassador of Tirumalaa Gold Edible Oil is the Indian film actress Ms. Tamannaah Bhatia. The brand promises to deliver premium quality edible oil products to delight customers.